Tips & Tricks For Camping With Dogs at Jellystone Park™
At pet-friendly Jellystone Park™ Columbus North, we understand that no camping trip is complete without bringing along your fur babies to share in the adventures. Planning and preparing for your pet's camping experience can be a bit of a chore, so we've included a few tidbits on what to do before and during your stay. After all, camping with dogs ought to be fun and relaxing!
Tips For Camping With Dogs
As a pup-approved resort, we welcome pets in all RV and tent sites and some cabins.
Tip #1:
When booking your stay online, look for the pawprint next to the site name to ensure dogs are allowed. You can also call us and let our staff know your pup is coming for the fun!
Tip #2:
If you have specific concerns about camping with your pet, contact us with any questions you may have. We want you to arrive at the campground as prepared as possible.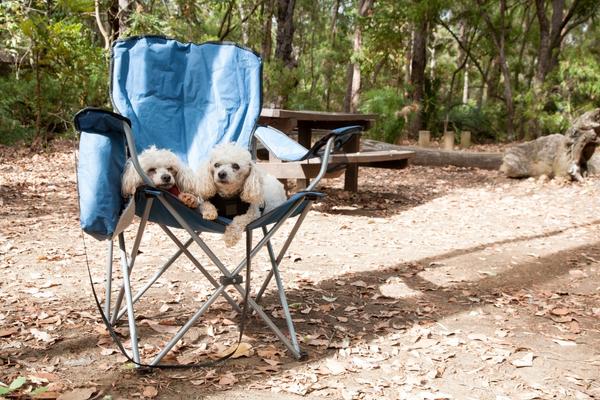 Tip #3:
Be sure your pup is up-to-date on vaccinations. Visit your vet beforehand to make sure they are ready for camping.
Tip #4:
Pack the essentials when camping with dogs. Bring extra food, treats, water, bowls, leash/harness, waste bags, favorite toys, a comfy blanket, and a crate (if your pup regularly sleeps in one).
Tip #5:
Give your pet plenty of outside time with the whole family. When walking around the resort, keep your pooch on a leash at all times and pick up after them. Excluding the playgrounds, restrooms, or other buildings, Fido can be right by your side for all camping adventures! Pets are also allowed to swim in the creek!
Tip #6:
A brush and towel are handy if you have dogs that like to roll around on the ground or like the water. Wipe them dry and brush out the dirt and knots before getting back into your tent, RV, or pet-friendly cabin.
Tip #7:
Include a tag on your dog's collar with your name, phone number, and campsite/cabin number.
Prepare To Have A Terrier-iffic Time!
With a bit of preparation, you and your pup will have a wonderful time at Jellystone Park™ Columbus North! Lock in your stay and get ready for a fun-filled getaway camping with dogs!
Have a Doggone Good Time On Your Camping Getaway!