Halloween Tips: How To Make Your Carved Pumpkin Last Longer
As part of our upcoming Halloween Spooktacular Weekends, you and the family can enjoy a myriad of fang-tastic activities, including pumpkin carving, one of the most memorable parts of the holiday. We want to make sure you and the family can continue admiring your carved pumpkins well after your departure from Jellystone Park™ Columbus North. So we have put together a list of tips to help preserve your Halloween masterpieces.
Tips to Help Preserve Your Carved Pumpkin
Tip #1: Pick a Pumpkin Void of Blemishes and Dark Spots
The first step to ensuring that your pumpkin will last longer than a week is to pick a hard, healthy one from the start. Avoid pumpkins in the early stages of rot–those with dark spots, bruises, broken stems, or soft spots.
Tip #2: Remove Every Last Pumpkin Gut
To avoid attracting pests like fruit flies or further decay, remove all evidence of pumpkin guts. So, after scooping out all the stringy pumpkin insides, go back over the inner rind, scraping it clean. Then let the empty cavity dry out in a cool, well-ventilated area before beginning to carve.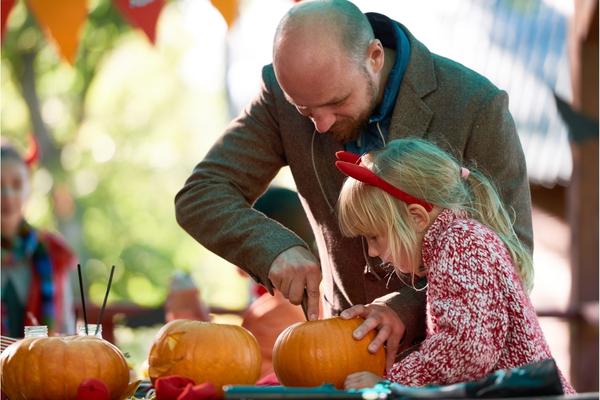 Tip #3: Make a Pumpkin Preserve Spray
Make your own all-natural spray to help slow the decomposition process. Combine five drops of peppermint essential oil with one cup of water in a spray bottle.
Peppermint not only has anti-fungal properties, but it helps keep insects away. Lightly spray the inside, outside, and around any edges of your carved pumpkin to help keep it moisturized.
Tip #4: Display Your Pumpkin in Dry, Shaded Spots
Wherever you display your pumpkin, be sure it isn't exposed to too much hot sunlight or rain. Both will speed up the decaying process. Under a porch is a good location.
Tip #5: Give Your Pumpkin a Bath
If your pumpkin looks a bit peaked, submerge it in an ice bath for 1-2 hours for some much-needed rehydration. Once removed, dry it thoroughly to prevent mold growth.
Tip #6: Use Battery-powered Lights
Instead of real candles to illuminate your pumpkin, switch to a flameless candle to preserve your pumpkin for longer. The heat from a candle will cause your pumpkin to rot quickly.
Come, Carve Out Some Fun During Halloween Spooktacular Weekends
Aside from carved pumpkin creations, you and the family can be a part of all the fun and scares during Halloween Spooktacular Weekends.
Other Activities Include:
Arts & Crafts
Costume Contests
Haunted Castle
Campsite/Cabin Decorating Contest
Trick-or-Treating
Cool Prizes (including a free night of camping next Halloween)
And So Much More!
Each weekend in October will have a unique theme so campers can enjoy something different every time!
Themes Include:
September 30th – October 2nd: Monster Bash Weekend
October 7th – 9th: Oktoberfest Weekend
October 14th – 16th: Scarecrows And Pumpkins Weekend
October 21st – 23rd: Wizards, Witches, And Warlocks Weekend
October 28th – 30th: Zombie Apocalypse Weekend (featuring a zombie trail!)

Orange You Pumped for Halloween Spooktacular Weekends?!