Endless Fun From Day One
Jellystone Park™ Columbus North
What's Your Family Doing This Camping Season?
Escape from the ​hustle​ ​and bustle​ ​of​ daily routines to Jellystone Park™ Columbus North. We are nestled​ ​on​ ​76​ ​scenic,​ ​wooded​ ​acres, ​just ​40​ ​miles​ ​north​ ​of​ ​Columbus,​ ​Ohio – ​not​ ​too​ ​far​ ​from​ ​the​ ​conveniences​ ​of​ ​your​ ​everyday​ ​life,​ ​yet​ ​far​ ​enough​ ​to​ ​feel like​ ​a​ ​getaway.​ This camping season, get your fill of nonstop fun, creature comforts, first-rate hospitality, and make amazing memories. We look forward to your arrival and making your family camping experience an unforgettable one.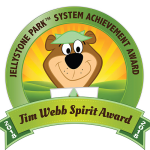 Jellystone Park™ Columbus North is the proud ​winner​ ​of​ ​the​ ​2019 and 2017​ ​Eastern Region Jellystone​ ​Park™​​ ​Camp-Resort​ ​of​ ​the Year.​
So Many Reasons To Stay and Play!
Book Your Stay Around a Theme Weekend
What Our Guests Are Saying

"We had an absolute blast. Family friendly, clean, wonderful customer service, activities that are well run and organized. Highly recommend. We will be returning."
What Our Guests Are Saying

"We had a great time. It's clean, there are tons of activities and the staff is wonderful!"
What Our Guests Are Saying

"This was our first family camping trip and I'm afraid this campground has really set the bar high!"
What Our Guests Are Saying

"What a gem of a park. Great setting around a lake and well cared for amenities. The staff is very helpful and there are always a ton of activities!"