Tent Camping Tips & Tricks for Beginners
If you're new to camping and looking for a fun and affordable way to experience the great outdoors, tent camping is a great option. Jellystone Park™ Columbus North offers soft, level tent sites among the trees for you to enjoy a rustic camping experience while still taking advantage of all the fun amenities and activities at the park. Here are some tips to help you make the most of your first tent camping adventure.
Tent Camping Tips for Beginners
Choose the Right Tent
Before heading out to the park, make sure you have a good quality tent that can accommodate your group size and provide enough ventilation and protection from the elements. Check the weather forecast and bring a rain fly in case of rain.
Set Up Your Tent Properly
Setting up your tent correctly can make all the difference in your camping experience. Practice setting up your tent in your backyard or a nearby park. Stake the tent's corners and use guy lines to secure the tent in windy conditions.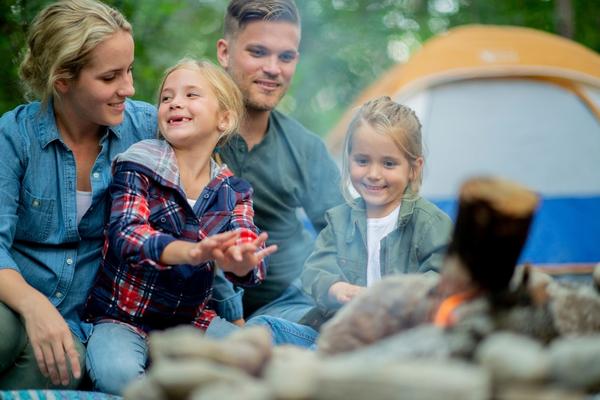 Pack Smart
When it comes to packing for your first tent camping trip, less is often more. Bring warm clothes, a sleeping bag, pillows, and a comfortable sleeping pad. Remember essentials like a flashlight, bug spray, sunscreen, and toiletries. Make a list of everything you need to bring and check it twice to avoid forgetting important items.
Cook Simple Meals
Cooking over a campfire can be a fun and rewarding experience, but it can also be challenging for first-time campers. Stick to simple meals like hot dogs, hamburgers, and pre-packaged meals that can be quickly cooked over an open flame. You might also want to consider these easy and practical campfire meals. Don't forget to bring utensils, pots and pans, and a cooler for perishable items.
Embrace the Outdoors
The whole point of camping is to escape the hustle and bustle of everyday life and enjoy the great outdoors. Take advantage of the hiking trails, catch-and-release fishing lake, and other outdoor activities at Jellystone Park™ Columbus North. Don't be afraid to try something new, like climbing, sliding, hanging, crawling, or doing your best cannonball off our Wibit obstacle course.
Explore Your Tent Camping Options
Jellystone Park™ Columbus North provides a range of tent camping choices for first-time campers, including family and large group tent sites. These sites come equipped with essential amenities such as 20/30 amp electricity, water hookup, fire ring, and picnic table, making it easy to plan your stay and enjoy all the park's activities.
Don't miss out on the chance to experience the great outdoors in a whole new way. Book your first tent camping adventure at Jellystone Park™ Columbus North today!
Not Into Tent Camping? We Offer RV Sites & Cabin Rentals Too!