Preparing for a Day Hike With the Whole Family
Hiking is an excellent way to spend quality time as a family while enjoying nature and getting exercise. However, a successful day hike requires proper planning and preparation, especially when hiking with kids. In this article, we will discuss what to bring and how to plan for a day hike with the whole family.
Planning Your Day Hike
Before setting out on a hike with your family, choosing a trail suitable for everyone is important. Research the trail's difficulty level and length, and ensure it's within the capabilities of all family members. Check weather conditions and trail closures, and inform someone of your hiking plans and expected return time.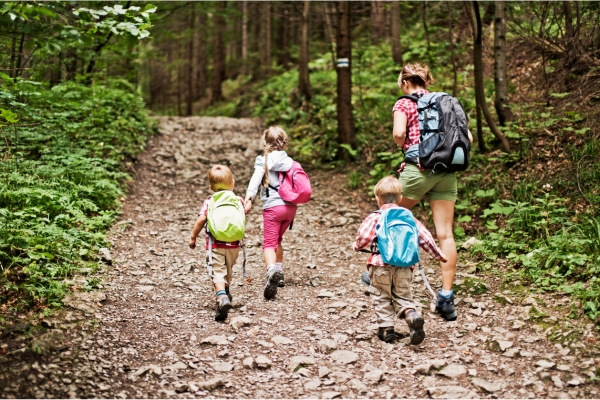 Essential Gear
Proper footwear and clothing for hiking are essential for everyone in the family. Choose comfortable, supportive shoes with good traction and moisture-wicking socks. Dress in layers to adapt to changing weather conditions, and bring extra clothing for emergencies.
Hydration is critical on a day hike, so bring enough water for everyone. You can use water bottles, hydration bladders, or both. Sun protection is also essential, so bring a hat, sunglasses, and sunscreen.
Pack the appropriate tools and supplies. Navigation tools like maps, compasses, and GPS devices are necessary, particularly on unfamiliar trails. Remember to bring a first-aid kit and emergency supplies such as a whistle, headlamp, and extra batteries. Bring snacks and meals for the family, choosing options that are lightweight and easy to carry.
Additional Gear for Kids
If you're hiking with young children, consider using child carriers to make the hike more comfortable for everyone. Bring extra clothing layers for kids, and choose snacks and meals fit for their tastes and nutritional needs.
On the Trail
Once you're on the trail, practice Leave No Trace principles. Keep kids engaged and motivated by pointing out interesting plants and wildlife and taking breaks for snacks and water. Stay on the trail to avoid damaging fragile ecosystems, and pack out all trash.
Hiking, Relaxation, and Fun – All in One Place at Jellystone Park™ Columbus North
A day hike is an excellent way for families to explore nature and create lasting memories together. At Jellystone Park™ Columbus North, we offer hiking trails for all ages and abilities. After a satisfying hike, you can return to your campsite or cabin and enjoy a hearty meal or snacks to refuel for more adventures at the park. With our vast range of amenities, including Wibit™, swimming pools, a fishing pond, boating on the lake, sports courts, gem mining, and scheduled activities, there's something for everyone to enjoy at Jellystone Park™ Columbus North.