Create Unforgettable Memories with Camping Upgrades
Learn All About Bear Experiences & Fun Passes at Jellystone Park™ Columbus North 
Want to take your camping experience to the next level? We've got you! This year, we're excited to introduce our Bear Experiences and Fun Passes, which offer a variety of camping upgrades to help you create unforgettable memories with your family. Keep reading to learn more about what's in store at Jellystone Park™ Columbus North!
Options for Camping Upgrades
Upgrade Your Camping Experience With Bear Experiences
At Jellystone Park™ Columbus North, we understand the importance of creating unforgettable memories on your camping trip. That's why, in addition to our parkwide attractions and events, we are offering Bear Experiences with Yogi Bear™ and his friends – special add-ons that let you enhance your stay with unique, family-friendly activities and amenities.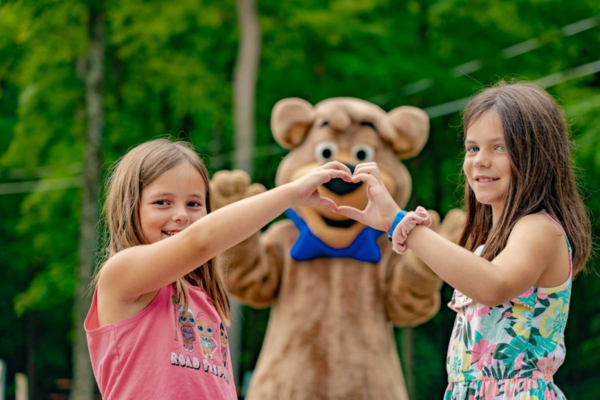 For example, you can upgrade your camping experience with our popular B-Day Cabin Decorating Add-On, where we'll have your cabin decorated and an ice cream cake waiting for you in the fridge when you arrive. Or you can sign up for the Barkcuterie Board and treat your pups to a variety of snacks served on a little cutting board you get to keep.
Other Bear Experiences Include:
Fun Passes for Even More Camping Upgrades
Looking for even more camping upgrades? Our Fun Passes offer a convenient way to bundle multiple activities and amenities into one affordable package.
With the Super Fun Pass, you can have a blast with some of our most favorite activities. And with the Ultimate Fun Pass, you'll have everything you need with just one purchase.
For your furry friends, we also offer the Pup Pass, which includes a Yogi Bear™ dog toy and delicious dog treats so your pets can have a great time too. Purchasing a Fun Pass will undoubtedly save you money compared to purchasing each activity individually.
Upgrade Your Camping Experience Today
With our Bear Experiences and Fun Passes, Jellystone Park™ Columbus North offers a wide range of camping upgrades to help you make the most of your family getaway. Book your stay today and get ready for a summer of adventure, relaxation, and endless family fun – with plenty of opportunities to upgrade your camping experience along the way!
Make Your Family Vacation One To Remember