Off-Season Care for Your Camping Gear
Tips for Jellystone Park™ Columbus North Campers
Hey campers! The 2023 season at Jellystone Park™ Columbus North is wrapping up, with our last day on October 29th. As we prepare for winter, it's the perfect time for you to focus on taking care of your camping gear. From tents and cooking equipment to outdoor furniture, here's your guide to keeping everything in top shape for Spring 2024, when the park reopens for a brand-new camping season.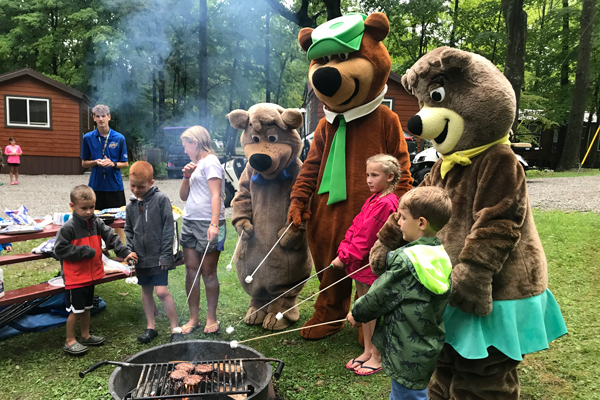 Quick Note on RV Winterizing
While our main focus here is on camping gear, we can't overlook the importance of winterizing your RV. Here's a quick rundown:
Drain all water systems to fend off freezing damage.
Disconnect and store the battery in a cool, dry area—remember to charge it occasionally.
Inspect for any cracks or gaps that could let moisture in, and seal them securely.
Tent Care
Always make sure your tent is completely dry before storing it to prevent mold and mildew.
Check for any tears or broken zippers and fix them before putting your tent away.
Cooking Gear
Grills and Stoves: Clean all surfaces and remove any leftover food particles. Store in a dry place.
Utensils and Cookware: Wash thoroughly and make sure they are completely dry before storing.
Outdoor Furniture
Camping Chairs and Tables: Wipe down and fold up. Store them in a dry place to keep them ready for your next adventure.
Miscellaneous Camping Gear
Lanterns and Flashlights: Remove batteries to prevent corrosion and store them in a cool, dry place.
Multi-tools and Knives: Clean and oil the moving parts. Store in a dry place.
First Aid Kits: Check expiration dates on medicines and replenish supplies as needed.
Conclusion: Be Gear-Ready for Spring 2024
Taking care of your camping gear in the off-season is crucial for a smooth start to your next adventure. Follow these tips, and you'll be all set when Jellystone Park™ Columbus North reopens in Spring 2024.
It's Never Too Early to Gear Up for the 2024 Camping Season
Book now and secure your perfect spot!