Corporate Retreats at Jellystone Park™ Columbus North
Where Business Meets Adventure
Trade in the boardroom for the great outdoors, where the only agenda is to connect, collaborate, and conquer challenges together. At Jellystone Park™ Columbus North, corporate retreats take on a refreshing twist, blending work with adventure.
Accommodations That Spell Adventure
Experience a unique blend of outdoor adventure and cozy comfort, ensuring every member of your team feels right at home while being close to nature.
Cabins: Furnished cabins that blend comfort with nature are just right for teams that prefer a touch of luxury amidst the wild.
RV Sites: For those who love the open road, our RV sites are equipped to make your stay seamless.
Tent Sites: Let your team bond under the stars with our tent sites, offering a true camping experience.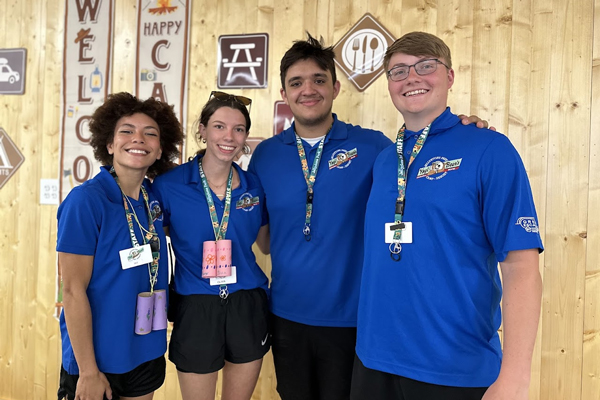 Meeting Spaces Tailored for Productivity
Our Activity Center, with attached covered pavilion, is ideal for meetings, brainstorming sessions, and other corporate activities. For presentations and visual discussions, the pavilion is equipped with a drop-down screen, a projector, and a large 70″ Smart TV.
Team Building Like Never Before
Discover an array of exciting team-building activities designed for corporate retreats:
Dive into challenges on the Wibit™ Lake Inflatables or race down Yogi Bear's Downhill Water Slide.
Engage in friendly competitions with sports courts like basketball and Gaga ball.
Set out on a hiking trail, turning it into a team-building scavenger hunt.
Break Time? More Like Adventure Time!
Your break time becomes a fun-filled interlude with refreshing swims, serene relaxation, and unique explorations.
Recharge with a dip in the swimming pools or the swimming lake.
Unwind on the beach, perhaps with a good book in hand.
Explore the park on pedal boats or try out the Corcls™.
Evenings at Jellystone
As the sun sets, gather your team around a campfire. It's the perfect setting for informal discussions, bonding over roasted marshmallows, or even a potluck dinner under the stars.
Why Jellystone Park™ Columbus North?
It's simple. Here, corporate retreats are not just about ticking off agenda points. They're about creating memories, fostering genuine connections, and returning to work with renewed energy and perspective. So, the next time you're planning a retreat, think beyond the boardroom. Think Jellystone Park™ Columbus North.
FAQs: All You Need to Know About Corporate Retreats at Jellystone Park™ Columbus North
When Can We Host a Corporate Retreat?
Retreats are available during our opening season, from the end of April to November 1, primarily from Sunday to Thursday. Special arrangements can be made depending on guest occupancy and park obligations.
How Many People Can the Park Accommodate?
We can comfortably host between 150-250 participants.
Do You Offer Any Team Discounts or Corporate Packages?
While we don't have standard corporate packages, we can customize packages based on your needs, time of season, and any extra amenities you'd like to include.
How Do We Book?
Reach out to our General Managers via email at manager@columbusjellystone.com or call (419) 946-5230. We recommend booking corporate retreats at least two months in advance.
Discover the perfect blend of work and adventure at Jellystone Park™ Columbus North.