Fun Ways To Get Around The Campground
With all sorts of fun-filled amenities and activities sprinkled throughout our 76-acre campground, there may be a good distance to trek from your campsite or cabin to where you want to go next. At Jellystone Park™ Columbus North, we believe the journey can be just as exciting as the destination, especially when you and the family camp with us. That's why we offer a variety of enjoyable ways to get around the campground and see it all!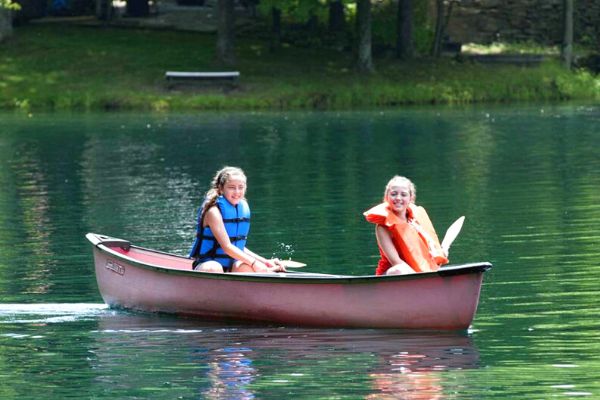 Fun Ways To Get Around The Campground
Train and Wagon Rides
All aboard the Jellystone Park™ Express! Our train is a huge hit for our little guests and a fun way for the kids to see the park! Families can also take a seat on our wagon rides and enjoy the sights, sounds, and smells of camping as they tour the grounds.
Hiking Trails
Campers can also take a detour through the woods and onto our many hiking trails to get to where they want to go next. Our trails are scenic shortcuts in the park and a great way to explore nature with the whole family. You can locate the hiking trails on our park map.
Boating
See parts of Jellystone Park™ Columbus North by waterway, as well. Rent a canoe or paddle boat and row, row, row down Dogwood Lake for the afternoon. Life jackets are required for the lake. Guests are welcome to bring their own Coast Guard-approved life jackets or rent one in the swim shop.
Golf Cart Rentals
One of the quickest ways to get around the campground is by golf cart. While personal golf carts aren't allowed on the park grounds, we provide rentals for our registered guests to access all our park offers. From grabbing supplies at the camp storeto zipping the kiddos (towels and all) to the swimming beach area, every place is just a quick ride away.
A golf cart rental is an add-on when booking your reservation. But if you are already here and decide you would like to add on a golf cart, feel free to swing by the Ranger Station and rent an available one for as long as your stay.
How Will You Get Around Jellystone Park™?
By golf cart, foot, or on your own bicycle, there are many fun ways to get around the campground. It's just another part of the camping adventures you and the family can enjoy on your next summer trip to Jellystone Park™ Columbus North!
Get Around To A Summer Family Vacation With Us!