5 Pro Tips For Backing Up An RV
For all the joy and excitement a brand-new or new-to-you RV can bring, some challenges come along for the ride. For instance, if you have little to no experience towing a trailer or sitting behind the wheel of a motorhome, backing up an RV into a campsite can be rather intimidating. Practice is ultimately the best remedy to feeling more comfortable with this process, but there are other tips you may want to consider.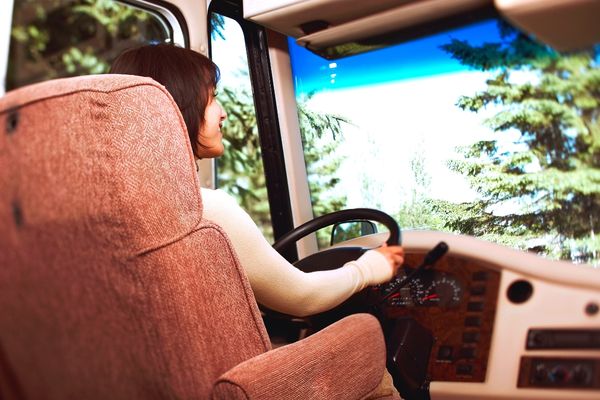 Tips For Backing Up An RV
Tip 1: Coordinate With A Spotter
The job of a spotter is to guide the driver through blind spots and other hidden obstacles. Your traveling partner is the likely candidate for this role. Whether you and your spotter agree to use walkie-talkies or hand signals, the key is to be clear on the verbal cues/signals in advance. In addition to your spotter, investing in an RV rear view safety camera wouldn't hurt as another set of "eyes."
Tip 2: Practice, Practice, Practice
Don't wait until you're at a busy campground to learn the skills for backing up an RV. Hands-on practice is the best practice, so head on over to an empty parking lot with your spotter and spend some time getting familiar with the process. Bring along some traffic cones or other obstacles that won't hurt your rig to act as barriers as if you were backing into a camp space.
Tip 3: Get Out And Look Around Before Backing In
When you get to your back-in site, get out and inspect the area first. Look for drop-offs, low-hanging branches, or other obstacles. Also, note where your hookups are located so you can park fairly close to them. Finally, let your spotter know where you would like to position the RV so they know where to guide you.
Tip 4: When Backing A Trailer, Keep Your Hand At The Bottom Of The Steering Wheel
Make backing up easier by holding the steering wheel at the bottom or at the "6 o'clock position." From this position, if you turn to the right, the rear of the trailer will go right, and if you turn the wheel to the left, the back of the trailer will head to the left. During your practice session in the parking lot, get a feel for how your tow vehicle and trailer move as you maneuver into your spot. Too sharp of a turn, and you could get jack-knifed or locked up, which you want to avoid at all costs.
Tip 5: Back To The Driver's Side
When backing up an RV, back to the driver's side so you can see better. You can turn as you back in and look right out the driver's side window at the camper's progress. Backing toward the right side can be very dangerous because you cannot see as well. But if this is your only option, make sure you utilize your spotter even more.
All Sorts of Ways To Stay at Jellystone Park™
At Jellystone Park™ Columbus North, we offer a variety of RV sites to choose from, including full and partial hookup back-in sites. But if you'd rather skip the chore of backing up an RV, we also have convenient pull-thru RV sites. Of course, you and the family don't have to have an RV to stay with us. Guests can opt for a more traditional way of camping in our tent site or kick it up a notch or two in a cozy cabin.
Back Up Into Or Pull-Thru A Summer Full Of Camping Adventures!