Explore the Benefits of Day Use Passes at Jellystone Park™
Jellystone Park™ Columbus North is the perfect destination for a day filled with excitement and family fun. With our Day Use Passes, you can enjoy all the park has to offer without the need to stay overnight. Let's take a closer look at the benefits of these day use passes and everything you can experience during your visit.
Benefits of Day Use Passes
Cost-Effective Fun
At Jellystone Park™ Columbus North, we believe that everyone should have access to an amazing day of adventure. That's why our Day Use Passes are designed to be affordable, allowing you to enjoy a full day of activities without straining your budget.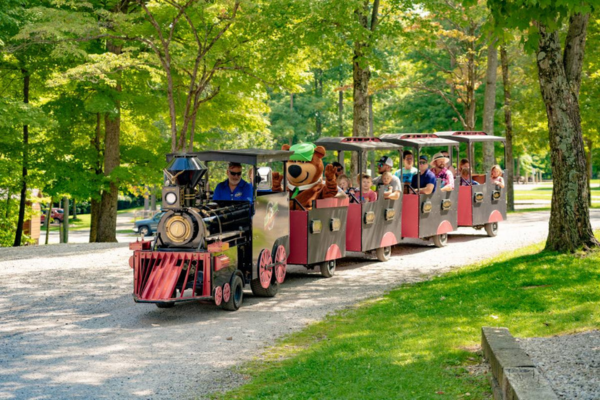 With prices starting at just $20 per person for ages 4-64 on weekdays (Monday to Thursday) and $25 per person on weekends (Friday to Sunday), it's a fantastic value for the fun-filled day that awaits you. Seniors aged 65 and above can enjoy the park for only $15 per person, making it an inclusive experience for the whole family. (Please note that certain activities at Jellystone Park™ Columbus North may require an additional charge.)
Easy Booking and Access
Securing your Day Use Pass at Jellystone Park™ Columbus North is simple. Just contact the park in advance to ensure availability for the day you plan to visit. Once you have your pass, you'll receive an armband for each paid Day Use guest. This armband grants you access to the park and its wide range of amenities, ensuring a hassle-free experience. Remember to wear your armband throughout your visit to make the most of your day of fun.
Amenities Galore
Jellystone Park™ Columbus North offers an abundance of amenities and activities to keep everyone entertained. Engage in an exciting gemstone and fossil mining adventure at Old Faceful™, where you can uncover treasures and learn about the wonders of Earth's geology. 
Get creative in arts and crafts sessions, challenge friends and family to Gaga Ball, Tetherball, or Horseshoes, and show off your basketball skills on the courts. Our park also features a beach volleyball area, a playground for children, and a tranquil catch-and-release fishing pond for those seeking a peaceful escape into nature.
Nature's Delight
Immerse yourself in the beauty of nature at Jellystone Park™ Columbus North. Take a leisurely hike along the park's scenic trails, marveling at the picturesque surroundings. When you're ready to cool off, head to the swimming pools or the swimming lake beach, basking in the sun and enjoying refreshing waters. 
For those seeking more aquatic thrills, pedal boats are available for a delightful adventure on the water. Kids, young and young-at-heart, will have a blast at the Wibit™ Lake Inflatables—a floating water park designed to spark endless laughter and joy.
Unforgettable Memories
The presence of Yogi Bear™ and his friends adds an extra touch of magic to your day at Jellystone Park™ Columbus North. Capture precious moments with photos alongside Yogi Bear™ himself and take part in organized activities and themed events that promise fun and excitement for all ages. The park is a treasure trove of unforgettable memories waiting to be created with your loved ones.
Plan Your Day Escape
So whether you're a local looking for a day of adventure or a traveling family in need of a break, Jellystone Park™ Columbus North and its Day Use Passes offer an exceptional opportunity to escape into a world of fun and enjoyment. Contact us today to secure your day use passes and get ready for an unforgettable day of excitement and family bonding.
Explore All the Park Amenities