Your Guide to Camping with Kids at Jellystone Park™
Planning a family camping trip? Exciting times are ahead! Camping with kids at Jellystone Park™ Columbus North is a fantastic opportunity to create lasting memories, learn new skills, and immerse yourselves in the joy of the great outdoors. This guide offers practical tips to help you plan a successful and enjoyable camping trip.
Tips for Camping With Kids
1. Involve Kids in the Planning
Make your camping trip a family project. From choosing between spacious campsites or the comfort of our cozy cabins to selecting the fun activities available at our park, give your children a say. This involvement can build anticipation and instill a sense of responsibility​​.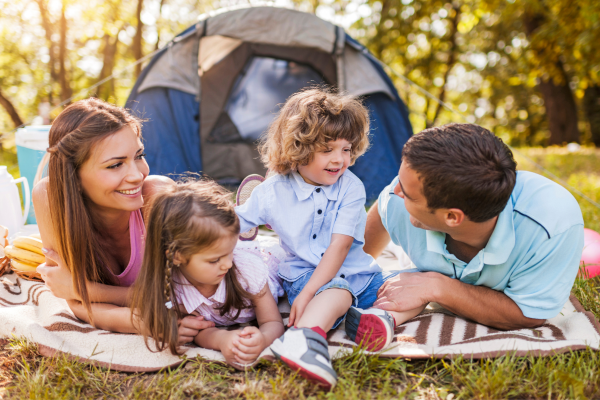 2. Pack Smart and Fun
Let your children help pack for the trip. Along with essential items like food, clothing, and a first-aid kit, ask them to think of fun things they'd like to bring— marshmallows for roasting, swimwear for our water attractions, or a favorite stuffed animal for those cozy nights.
3. Learn New Skills Together
Camping with kids opens up a world of learning opportunities. Whether it's setting up a tent or RV site together, giving fishing a try, or practicing camping etiquette, each activity offers a chance to learn and grow.
4. Prioritize Safety
While camping is a delightful adventure, safety should always be your top priority. Teach your children about fire safety while cooking a meal outdoors. Navigate the campground using the park map. And familiarize them with wearing life vests, particularly when enjoying our exciting Wibit™ floating obstacle course.
5. Stay Positive and Embrace the Unexpected
Camping can teach many life lessons—patience, resilience, respect for nature, and more. Even if things don't go as planned, take it in stride. A sudden change in weather could mean an impromptu indoor picnic or a fun storytelling session in the tent!
Remember, the goal of camping with kids is to create cherished memories and nurture a love for the outdoors. At Jellystone Park™ Columbus North, we're committed to helping you do just that. Here's to an exciting camping adventure!
Start Planning Your Family Getaway Today!