5 Campfire Recipes With Marshmallows
When you think about camping, what initially comes to mind? For many, images of family and friends gathering around a campfire, sharing stories, and roasting marshmallows come into focus. Campfires and marshmallows are a match made in heaven! Whether you and the family are staying in a tent site, RV site, or cabin at Jellystone Park™ Columbus North, make some forever memories with these campfire recipes with marshmallows.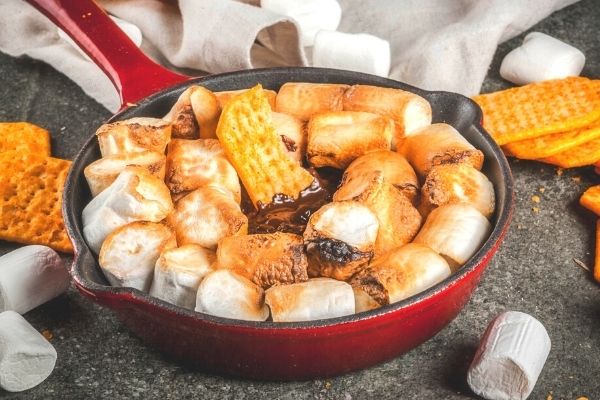 Campfire Recipes With Marshmallows
These campfire recipes with marshmallows are a fun treat to share with the whole gang!
S'mores In A Bag
Ingredients:
Marshmallows
Chocolate chips, M&Ms, mini peanut butter cups, etc.
Cookies in a bag (single-serve): Fudge Stripes, Teddy Grahams, Animal Crackers, etc.
Directions:
1. Open cookie bag.
2. Pour a handful of chocolate pieces into the bag.
3. Roast 1-2 marshmallows.
4. Slide roasted marshmallows into the bag and mix the ingredients.
5. Dig in with a spoon!
Pineapple Upside Down S'more Cookies
Ingredients:
Sliced pineapples
Jumbo marshmallows
Chocolate chip cookies or sugar cookies
Directions:
1. Stick a pineapple slice and jumbo marshmallow onto your roasting stick.
2. Grill to perfection.
3. Once ready, slide them onto a cookie and serve.
Roasted Strawberries in Marshmallow Fluff
Ingredients:
Marshmallow Fluff
Strawberries
Directions:
1. Dip or spread the bottom half of a strawberry in fluff and stick on a roasting stick.
2. Roast until the fluff is a little brown and the strawberry is warm.
3. Let it cool down and enjoy.
Campfire S'mores Dip in a Cast Iron Skillet
Ingredients:
Philadelphia chocolate cream cheese
Marshmallow Fluff
Chocolate chips
Mini marshmallows
Graham crackers
Directions:
1. Line the base of your skillet with parchment paper. (This makes for easy clean up.)
2. Add a layer of chocolate cream cheese to the skillet, followed by the fluff on top.
3. Heat over the campfire for about 15 minutes, until nice and gooey.
4. Remove from heat and top with marshmallows and chocolate chips.
5. Dip in graham crackers.
PB & Banana Marshmallow Delight in a Pie Iron
Ingredients:
Peanut butter
Sliced bananas
Hershey's chocolate bar broken up into squares
Marshmallows
Slices of bread
Directions:
1. Spread peanut butter on a slice of bread.
2. Add banana slices, chocolate squares, and marshmallows.
3. Top with a second slice of bread.
4. Place the sandwich in a greased pie iron.
5. Cook over a campfire until the bread is golden brown.

Which of these campfire recipes with marshmallows will you and the family try first at Jellystone Park™ Columbus North? Don't forget to pack the roasting sticks! But if you need a few extras, stop by the Ranger Station camp store to stock up on more!
Make Memories Around the Campfire and During Your Stay!