Preparing For Camping Season: Tips To Get Your RV Ready
Camping Season is just weeks away at Jellystone Park™ Columbus North! Yogi Bear™ and pals can't wait to welcome campers to a whole new year of family camping adventures! Are you and the family ready? How are you preparing for Camping Season?
We offer all kinds of ways to camp and have fun, from campsites to cabins and attractions to weekend events! For those families planning to RV with us, here are some helpful tips to help make your camping experience more enjoyable!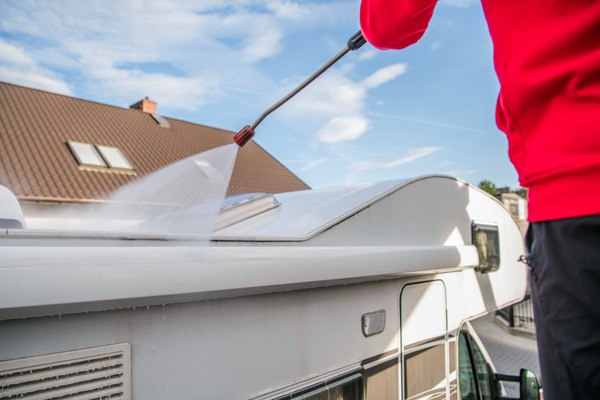 RV Tips: Preparing For Camping Season
Tip #1: As You Clean, Perform RV Inspections
Use the Outside To Inside, Top To Bottom Cleaning Approach
When it comes to cleaning your RV, take the Outside To Inside, Top To Bottom approach. Wash the RV's exterior from the roof down to the tires and the interior from the ceiling down to the floor. This is a more efficient way to get the job done. Essentially, all of the dirt and grime from the top falls to the bottom, eliminating the need to revisit areas already addressed.
Things To Inspect On The Exterior
The key to making this process even more productive is to carefully inspect all parts of the RV as it is being cleaned. For example, when you are busy scrubbing the roof, check the seams to see if any sections need to be redone. Test the awning out before cleaning. As you clean out the underbelly compartments, inspect the health of the batteries and propane tanks, and if you have the appropriate outlet available, plug in the RV. Eyeball the tires as you wipe and rinse those off.
Things To Inspect On The Interior
The same goes for the interior. As you disinfect, wipe down, and dust every nook and cranny, check for leaks, cracks, and holes. Make sure critters haven't tried to burrow inside over the winter, and take note of any items that need to be repaired and/or replaced. This includes running appliances and replacing smoke detector batteries.
Tip #2: Take Care of Essential Repairs and Maintenance
Probably the most important RV tip when preparing for Camping Season is taking steps to repair and/or replace essential components on your rig. Don't jump on the road without a quick RV tune-up. Schedule routine maintenance, tire replacements, etc., with professionals. Opt to DIY for smaller projects like replacing a cabinet hinge, faucet fixture, batteries, etc.
Tip #3: Stock Up for the Trip!
Make a list of the essentials you need that may be in short supply. Stock up on groceries, toiletries, dishes, insect repellants, flashlights, and pet supplies. Ensure all RV connections, like sewer and water hose, are in good condition. Pack camping chairs and gear like the kids' bicycles.
We've Got You Covered With Camping Essentials and Fun!
While you are preparing for Camping Season, we are preparing for your arrival by making sure we have everything in place for your unforgettable family getaway! If you forget some supplies after arriving at Jellystone Park™ Columbus North, stop by the camp store! We carry all sorts of essentials, including groceries, drinks, RV/other general camping items, apparel, and nifty Jellystone Park™ mementos!
Prepare For Your Trip, And Then Be Prepared For Endless Fun!