Fishing With Kids: How to Make It a Fun and Safe Experience
Fishing is a great activity for families to enjoy together, and what better place to do it than at Jellystone Park™ Columbus North? The park's catch-and-release fishing pond is the perfect spot for kids of all ages to learn how to fish and make lasting memories with their loved ones. However, when it comes to fishing with kids, safety should always be a top priority. In this post, we'll share tips on making fishing at the park a fun and safe experience for the whole family.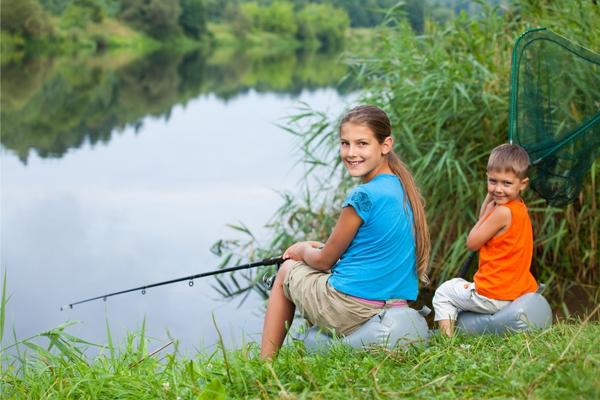 Guidelines for Fishing With Kids
Safety Tips:
First and foremost, safety should always be a top priority when fishing with kids. The park offers life jackets for rent unless you have your own appropriate life jacket for each child. It's also important to teach children about water safety and fishing safety before heading out to the pond.
Choosing the Right Equipment:
When choosing the right equipment, use age-appropriate gear. Young children may have trouble handling adult-sized fishing poles and reels, so look for equipment specifically designed for kids. For example, a lightweight fishing pole and reel with a smaller diameter spool will be easier for a child to handle. Also, bait should be chosen carefully. Make sure it is not harmful to kids and easy for them to handle.
Making It Fun for Kids:
Making fishing fun for kids is key to keeping their interest and keeping them engaged. One way to do this is by turning the activity into a game or contest. For example, you could have a "biggest fish" or "most fish caught" competition among family members. Another way to make fishing more interactive and educational is by teaching children about the different types of fish found in the pond and their habits.
Fishing Together at Jellystone Park™ Columbus North
In conclusion, fishing with kids at Jellystone Park™ Columbus North is an excellent way for families to spend time together and create lasting memories. Following a few simple safety tips and using age-appropriate equipment can make the experience fun and safe for kids of all ages. Don't forget to check the park's rules and regulations before heading out to the pond.
Reel in the Fun and Adventures at Jellystone Park™ Columbus North!